In order for aid to credit as pending aid, your checklist items must be complete. The only exception is the SAP checklist item. It will remain initiated even if you choose to appeal and the appeal is granted.
If your aid has not yet disbursed, it may be subject to change if you are not enrolled in at least 12 credits after the add/drop period for the term in which your aid was awarded.
Additionally, aid (both disbursed and undisbursed) may be cancelled or reduced if you do not successfully complete the term; if the college becomes aware of additional financial resources not apparent at the time of the initial award; or if other aid-specific eligibility is not met. If aid has already disbursed, and you withdraw from all of your courses, you may owe back the funding, per the Return to Title IV (R2T4) funds policy for your College.
For the most accurate award amounts, based on your current enrollment, we encourage you to log onto the Student Center self-service portal available through our Student Information System and use the aid proration pushbutton within the Account Inquiry Link (see instructions below).
To recalculate aid based on actual enrollment:
Why Should I Review My Anticipated Financial Aid?
If you are awarded financial aid before the semester begins, your award will be based on anticipated full-time enrollment in at least 12 credits. If you choose to enroll in less than 12 credit hours, your financial aid award may be adjusted. Please follow the steps below to learn how to view award adjustments based on actual enrollment.
To View the Anticipated Financial Aid:
Step 1: Log into your Student Portal
Step 2: Click on VCCS SIS: Student Self Service
Click on Self Service
Click on Student Center
Scroll down to the Finances tab and click on Account Inquiry
(Image of Account Inquiry in SIS)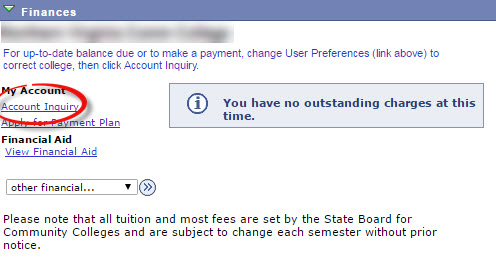 Step 3: Click the yellow button that reads, "CLICK HERE to see Pending Financial Aid Based on Actual Enrollment".
(Image of CLICK HERE to see Pending Financial Aid button in SIS)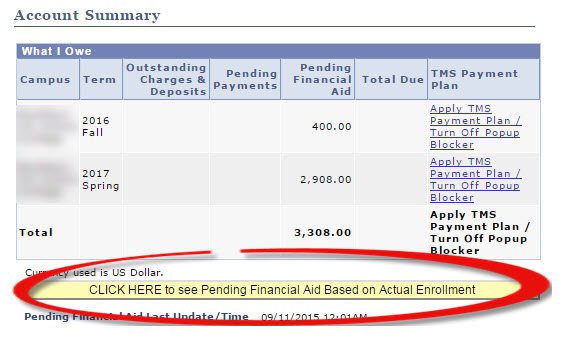 Note: The yellow "CLICK HERE" button will be activated on the first day of enrollment for the involved term and inactivated on the Term Census Date (day after the last day to drop/add classes for the session). If you are within this window of time and are still unable to click the button, then you will need to contact the IT Help Desk for your College.
(Financial Aid > Awards > Other)